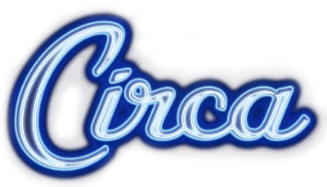 Circa Resort & Casino will deliver an all - new integrated resort concept to the heart of Downtown Las Vegas at the historic 18 Fremont Street site. Inspired by the city's irresistible energy and timeless allure, Circa is building a new legacy that turns up the good times to eleven and burns bright with the original spirit of Vegas. Combining the best of Las Vegas service in a modern, state - of - the - art setting, Circa is designed for guests to live large in the now, make the most of life's fleeting moments and create new memories through an exhilarating, multi - sensory experience. The 1.25 - million - square - foot, 777 - room resort and casino will offer innovative entertainment and gaming experiences and unparalleled personalized offerings inspired by old - school Las Vegas hospitality. Circa will present eclectic dining options including premium steaks and seafood at Barry's Downtown Prime from Chef Barry S. Dakake, pan - Asian fare at 8 East from Chef Dan Coughlin, classic delicates sen offerings at Saginaw's Delicatessen from restaurateur Paul Saginaw, authentic Carolina barbecue at Project BBQ, and all - star menus at Victory Burger & Wings Co. from the founding family of American Coney Island. Visit circalasvegas.com or follow on Facebook, Twitter and Instagram at @circalasvegas to stay up to date with more developments.
Helmed by casino owner and Downtown Las Vegas developer Derek Stevens, Circa Sports is blazing a new trail in the gaming industry by combining customer - first approach to business with a team of the country's top oddsmakers. Circa Sports boasts one of the most competitive wagering menus in Las Vegas and will be a leader in the city for sports futures. Following the company's launch at Golden Gate Hotel & Casino, Circa Sports will introduce a satellite program at the D Las Vegas in late June 2019 and the multi - level, stadium - style sportsbook at
Circa Resort & Casino
in December 2020.
the D Las Vegas delivers the fresh, energetic attitude and fun atmosphere synonymous with downtown Las Vegas. The casino hotel boasts 629 remodeled rooms and suites and a unique two - level casino featuring modern and vintage floors. Cocktails, beer and frozen beverages abound inside the casino at LONGBAR and on the Fremont Street Experience at D Bar. the D offers contemporary American fare at D Grill, Detroit's legendary Coney Dogs at American Coney Island and premium steaks and authentic Italian dishes at Joe Vicari's Andiamo Italian Steakhouse. The Showroom at the D Las Vegas features outstanding entertainment ranging from award - winning dinner theater and Broadway productions to music, comedy and more. Follow the D on Facebook and Twitter.
Opening in 1906 at One Fremont Street, Golden Gate's legacy spans the birth of Las Vegas, the Roaring 20s, the Rat Pack era and now the 21 st century. Boasting a prime location under the lights of the Fremont Street Experience and three distinctive bars, the historic property de livers an experience that is authentic and energetic. Golden Gate – where the past meets the future and the spirit of Las Vegas is very much alive.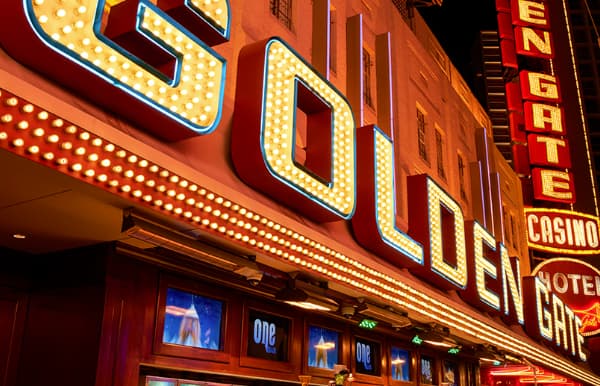 Located at the corner of Third St. and Carson Ave. in Downtown Las Vegas, Downtown Las Vegas Events Center is the ultimate entertainment destination. The 20,000 - foot multipurpose space offers carefully designed layouts to create a unique and memorable experience for every curated event. Merging Vegas nostalgia with a modern touch, Downtown Las Vegas Events Center is inviting to both tourists and locals and embraces the spirit of the city with an eclectic line - up, ranging from music festivals, sport viewing parties and more. The venue features a state-of-the-art stage, sound and lighting design equipment and can accommodate up to 11,000 guests. For more information, visit www.dlvec.com or follow on Facebook, Instagram and Twitter at @DLVEC.